Easy_Spectro_RX
自动透射分光测色仪 – 色差仪
"Fast, Easy, Accurate, Compact, Modular, Industrial Spectrophotometer for Transmittance & Color Check"
Automatic Spectrophotometer for Transmittance & Color Check, Easy_Spectro_RX is IDEAL for Quality Control of Colored Glass, Plastic Film & other Translucent Materials in any industrial and labs environment.
The innovative Smart_Premium_Suite software interface combined with Easy_Spectro_RX guarantees measurements at a record speed (just 1 second) and improves the usability by the operator.
SmartVision provides with the software a Wide Range of Optional Smart Features such as: 3D graphics to check Color Matching, Advanced Digital Color Master Management, Complete and Configurable Production Batch, Data Report in Pdf and Excel format, Multi language interface, Online Remote Support, Continuous Product Improvement and more!
询价或申请演示
Accurate Spectrophotometer in the range: 355 – 790 nm
Very Easy-to-Use with Friendly User Interface
Check Cycle and Full Automatic Report Output in Few Seconds
Immediate Visual Analysis Results
Continuous pre-calibration of the instrument. No interruptions during the measuring cycles
Customizable software
Wide Range of Modular Options
Rugged Equipment, Suitable for Laboratory and Production line
100% Made in Italy: High Level of Quality and Innovation
| | |
| --- | --- |
| Dimensions (mm) | 460×185 H.55 |
| Weight (kg) | 4,60 |
| Power Supply | 110-240 Vac | 50-60 Hz |
| Power Consumption | 2 A |
| Communication Interface | USB 2 |
| Case | Stainless Steel |
| | |
| --- | --- |
| Software Interface | Multi Language Dynamic Setup |
| PC Software Backup | USB stick containing the backup system |
| Data Report | xlsx, xls, pdf |
| Print Report | Windows installed Printer (optional pdf), xps |
| Statistical Analysis | Ready to connect with SPC software |
| Online Support | Pre-installed TeamViewer app Support |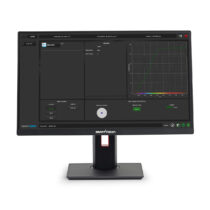 Powerful All-in-One PC
Full HD Touchscreen
Monitor resolution 1920×1080 pixels
Height adjustable & Tilt swivel rotate position
Wireless Keyboard and Mouse
Genuine Windows 11 PRO 64-bit
Easy to use with an intuitive GUI
T% graphic with color indication
Customizable setting parameters
Extended User Management Feature
Lamps Warm-up Dynamic Control
Spectrum Stability Continuos Control
Full automatic data report
Remotely managing Software Options
Hardware License Key