Smart_PhotoChromicActivator
UV & Visible Photochromic Lens Activator
"Smart_PhotoChromicActivator is a easy and smart turnkey solution for UV & Visible Photochromic Lens Activation"
The Smart_PhotoChromicActivator is a Photochromic Lenses activator equivalent to the standard method, suitable to activate lenses of different shapes.
Extremely easy-to-use and Fully Programmable, the intuitive touch screen user-interface allows the employment of unskilled workers for in-line control and incoming inspection.
The Smart_PhotoChromicActivator is a Compact and Resistant Stand-alone device. No pc or additional external control units are required.
The Activation Chamber protects the operator from ROA and the interlock system stops the activation process if the door is open. An acoustic signal indicates the end of process.
The Smart_PhotoChromicActivator is ideal for the accurate and complete control of transmittance properties according to International Standards, combined with Smart_Color, Fast Industrial Spectrophotometer for SunLenses and SunGlasses producers.
询价或申请演示
下载小册子
Photochromic Lens Activation on UV + Visible Spectral Range
Light Activation Spectral Range in accordance to the International Standards
High Uniformity of Activated Area
Embedded Microprocessor Controller
Embedded Color Touch Screen Display
Adjustable Activation Time (Protected by Password)
Adjustable Light Power Density (Protected by Password)
Upper housing door for Lens under test with Closing Sensor, inter-rupt emission when open
End of cycle warning beeper
Self centering base for a correct lens position
Rugged, Static, Compact, Easy-to-use
| | |
| --- | --- |
| Activation Chamber (mm) | 90×90 H.13 |
| Dimensions (mm) | 150×230 H.155 |
| Weight (kg) | 2 |
| Power Supply & Consumption | 110-230 Vac | 50-60 Hz | 2 A (12 Vcc included) |
| Case | Black Opaque painted Metal |
| | |
| --- | --- |
| Activation Area (mm) | Ø 20 |
| Spectral Range (nm) | 280 – 780 |
| Average lifetime of Lamp (ore) | 2500 |
| Monitor | Integrated Touchscreen 5″ |
| Software | English |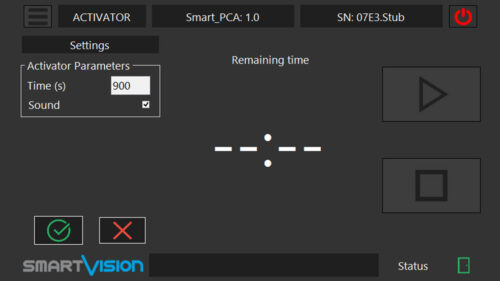 User-friendly Software Interface: Configuration mode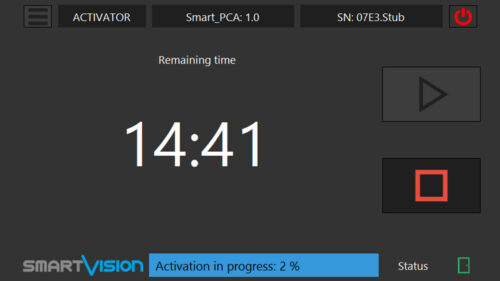 User-friendly Software Interface: Activation mode