Smart_Color_Pro
Spectrophotometer for Quality Control of Lenses, Eyeglasses & Visors for Sun, Sports & Safety
"Smart_Color_Pro allows Automatic, Objective, Easy & Fast Color Differences and International Standard Compliance Tests"
Smart_Color_Pro is the advanced and unique technical evolution of spectrophotometers, it is specifically designed and optimized for quality controls of: Lenses, Eyeglasses, Masks and Visors, for Sun, Sports and Safety use.
The innovative Smart_Premium_Suite software interface, designed by SmartVision, guarantees measurements at a record speed (just 1 second) and improves the usability by the operator.
Smart_Color_Pro checks the transmittance properties according to all uploaded International Standards, the Yellow Index and the Color Differences compared to a master lens. Several International Standard Test are optionally available to meet your specific needs.
The instrument immediately shows a « Pass / Fail » output, with no contribution nor interpretation by the operator and no requirements of specific skills to perform the tests. State-of-the-art user features allow an easier management of production quality controls, with new optional advanced reports: Master Technical Report, Benchmark Report and Process Control Report.
The innovative improved design of the device allows fast and firm grip of the lens and accurate positioning, suitable also for glasses with frame, masks, goggles, visors and safety glasses.
No need of mechanical movements nor to dismount or cut the lenses to fit the device. A wide range of Software Options is available to perfectly suit every specific need.
询价或申请演示
下载小册子
Individual « Pass / Fail » lamp signal indicator for every single International Standard
Customizable setting of accepted tolerance of color differences
Digital Color Master Item Reference Management (Save & Name, Load Model)
Points out the reason of a failure
One shot color analysis
Display 3D graphics to view the color space, parallelepiped of acceptability and measured points
Spectrum Stability Continuous Control (Allows more accurate measurement)
Lamps Warm-up Dynamic Control (Warm up time will be minimum possible allowed by the hardware)
Auto-calibration of the instrument (No visible calibration and no interruption of the measuring cycles)
Display of transmittance curve with color indication for each frequency of light, zoom, pan and display of transmittance values for single wavelength
Full automatic Technical Data Sheet (International Standards and Color report) reports on PDF or direct print
Spectral transmittance values file output
Full automatic Production Batch in Excel file
| | |
| --- | --- |
| Dimensions (mm) | 600 x 130 x 186 (lateral knobs included) |
| Weight (kg) | 7,80 (excluding PC, tools and cables) |
| Power Supply | 110-240 Vac | 50-60 Hz |
| Power Consumption | 2 A |
| Communication Interface | USB 2 |
| Case | Black Opaque painted Aluminum |
| | |
| --- | --- |
| Software Interface | Multi Language Dynamic Setup |
| PC Software Backup | USB stick containing the backup system |
| Data Report | xlsx, xls, pdf |
| Print Report | Windows installed Printer (optional pdf), xps |
| Statistical Analysis | Ready to connect with SPC software |
| Online Support | Pre-installed TeamViewer app Support |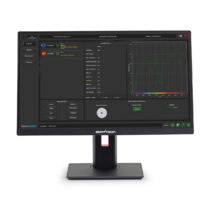 Powerful All-in-One PC
Full HD Touchscreen
Monitor resolution 1920×1080 pixels
Height adjustable & Tilt swivel rotate position
Wireless Keyboard and Mouse
Genuine Windows 11 PRO 64-bit
Pre-installed TeamViewer app Support
Easy to use with an intuitive GUI
T% graphic with color indication
Live 3D color space visualization
Customizable setting parameters
Extended User Management Feature
Lamps Warm-up Dynamic Control
Spectrum Stability Continuos Control
Full automatic data report
Remotely managing Software Options
Upgradability for future Standards
Hardware License Key